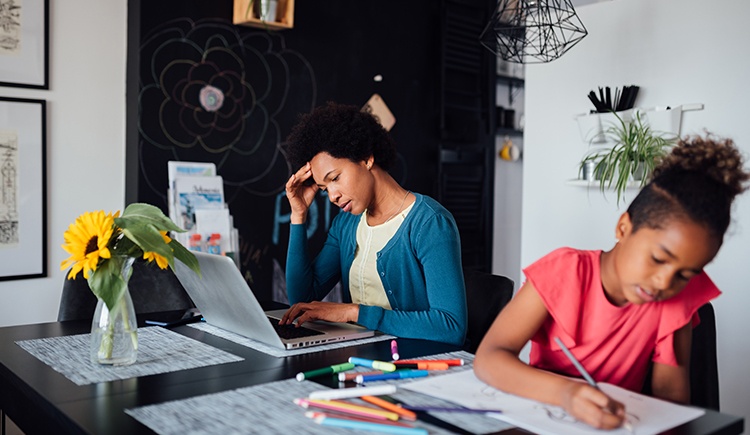 Bettering your Remote Work Space
Ever since COVID-19 became a pandemic, you have most likely made use of technology to accomplish simple tasks on a daily basis. Just because you are familiar with technology, doesn't make working remotely and assisting your children with remote learning any easier.
Here are some things that can help to promote a productive workspace even when you aren't physically able to be in your workplace.
Stick to a Routine
Many individuals who work from home can become accustomed to waking up and logging onto their computer, which eliminates a basic morning routine. It is easy to get lost in the monotony of the day when you are alone. This is also how most of these individuals feel worn down or even burn out. Follow the same routine you would have if you were reporting into your office or school. It may seem unusual to set your alarm for the same time, especially when not having to worry about a commute, but think of the household tasks you could accomplish in that time! Not only could you use that time to catch up on household tasks, but you could also go for a walk, get in a workout, cook a proper breakfast, or spend time with your family.
One of the biggest challenges of being home all day is your pantry calling. Continue to pack a lunch or snacks to stop yourself from aimlessly eating through all of your groceries. Take your required lunch time to disconnect from your workspace. This is a perfect time for play for children. At the end of the day, remove yourself from your workspace and spend the evening decompressing. It is important to have a healthy work/life balance, even when the two seem to bleed together.
Define and Make Realistic Expectations
It is important to set a standard to hold yourself to when working remotely. Working remotely is not secret code for a "staycation". You are expected to complete your work/assignments and to the standards that you would normally follow. Many can find it helpful to look at what you have on your plate for the day or week and find the best way to divide and conquer the tasks so that they are completed in a timely manner. It is also important to note that you should be setting realistic expectations. It is impossible to accomplish everything in one day. Prioritize and communicate your priorities to see if you may need to realign yours with your colleagues. The process of constantly re-evaluating your priorities will help to keep you grounded, even when not in the office.
Communicate, Communicate, Communicate
Communication is often taken for granted when working in the same office space with your colleagues. Communication becomes increasingly difficult as distance is added between members of the same organization. It is crucial to remember to communicate with your colleagues and supervisors. Don't just communicate, OVER-communicate. Keep those you work closely with updated on your priorities, progress, and accomplishments. Things that may seem minute to you, may be a key catalyst for another individual. Emails, phone calls, and virtual meetings are all great ways to promote communication, especially since location doesn't need to be a factor.
Plan a Workflow
Similar to having a routine, it is a good idea to have a workflow for your day. People are rarely doing the same thing all day. Tending to all of your responsibilities is important. Most individuals start their day by checking and responding to emails that may have come in since the previous day. You may need to review your calendar to see what may come in the way of your workflow, this way you can plan accordingly. Your workflow should feel natural and do-able. If you are having trouble "crossing things off your list", you may need to re-evaluate your workflow to be attainable.
Create a Remote Work Space with No Distractions!
It can be difficult to form boundaries when it all runs together at home. Creating a work space away from your normal living space can be a vital component to your productivity. In the best circumstance, your new work space shouldn't have any additional distractions including; a television, pets, and even children. With most school districts offering or requiring remote learning at this time, staying undistracted from children can seem impossible! In most cases, the least amount of distractions possible is the best! You can always work from your couch or dining room table in a pinch, but it can be relaxing to retreat to a designated work space. Creating a separate work space at home will also continue to fortify healthy boundaries between work and home life.
Be Kind to Yourself
Working remotely isn't an easy feat, especially when most of us have external factors to account for. It is possible to burn out or be overwhelmed by working from home. You may try your best to follow your routine and still feel like you aren't doing enough. This is normal and you aren't the only one feeling this way. Personally, I felt guilty at any point I needed to step away from my computer, even to take a break and walk away from the laptop. You feel a need to always be reachable during work hours, especially since you don't have face-to-face contact.
It's a rare occurrence when a day goes to plan, priorities move and there are urgent things that come up. It is okay to remind yourself that you are doing the best you can, you may need to push something off. It is an uncomfortable feeling to combat when you are alone and you feel overwhelmed. Just know that there are many more people who feel the same way, maybe even your coworker!

Working together as the most trusted resource to help our members' financial lives be simply better.