Online Banking just got easier! Access your account with our Mobile App, wherever you are.
What you can do:
Check balances
Deposit checks
View history
Request a loan
Apply for a mortgage
Use financial tools
Check messages
Transfer funds
Bill pay
Find branch and ATM locations
Lock and unlock your debit or credit card
Mobile App FAQ's
Q: Do I have to register for Remote Deposit?
A: Yes; To apply for remote deposit, you will need to click "move money" > "deposit check" > use your online banking log-in information > Click "Register".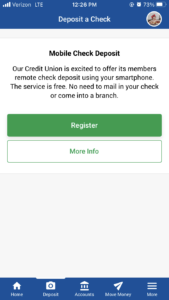 Q: How do I set up multi-factor authentication (fingerprint log-in, etc.)?
A: Once you're in the app, click "more" in the bottom right corner and then "settings and info".  After that, you'll want to click "authentication options" and can set up as many or as few options as you would like.  You can choose from voice recognition, pin, online banking login, fingerprint, or face recognition.
Q: What version does my phone need to be on to use this app?
A: Apple devices must be on iOS 9.0 or later.  Compatible with iPhone, iPad, and iPod Touch.  Android versions must be on: 5.0 and later.  Please contact your phone provider for help on updating your phone to its latest version.
Q: Do I need a special restrictive endorsement on the back of checks I deposit in Remote Deposit vs. what I deposit in person?
A: Yes!  Any check you deposit in Remote Deposit must be endorsed on the back with your signature and "For Mobile Deposit Only at West Michigan Credit Union".  All other checks are subject to be rejected.
Working together as the most trusted resource to help our members' financial lives be simply better.