We are proud to serve members at six locations across West Michigan. WMCU is conveniently located in the cities of Grand Rapids, Big Rapids, Reed City, Cadillac and Manistee. WMCU also participates in the Xtend Shared Branching Network and a surcharge-free ATM network for our member's convenience.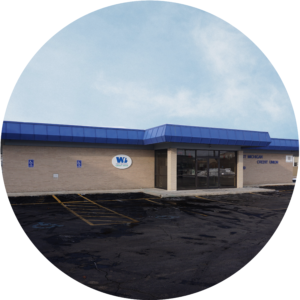 Front Ave - Grand Rapids Office
1319 Front Ave. N.W.
Grand Rapids, MI 49504
Phone: 1.800.442.4576
Fax: 616.451.8850
Lobby Hours
Monday – Friday: 8:30 – 5:00pm
Drive Up Hours
Monday – Thursday: 8:30 – 5:00pm
Friday: 8:30 – 5:30pm
ATM Available 24/7 (Cash Dispenser Only)
Shared Branch Locations
We love being able to serve our members, but we recognize that sometimes our locations can't be accessed. West Michigan Credit Union is part of a Shared Branching Network that allows our members to get the same great service at a location of their convenience. As a member, all you would need is your photo ID and WMCU account number to perform member transactions in any of our shared branching network facilities.
Click on the logo for a regional map directory to locate shared branching facilities convenient to your locale.
Surcharge-Free ATMs
West Michigan Credit Union has partnered with Jeanie to provide use of their network of surcharge-free ATMs! That means that when you use your West Michigan Credit Union Debit Card at any ATM displaying the Jeanie logo, you will not be charged a fee for your withdrawal.
The Jeanie network has over 7,500 ATMs available for your use across the United States. The Jeanie network and your debit card give you universal access to your funds to help keep your money close.
Click on the logo for a regional map directory to locate an ATM convenient for your destination, wherever you are in the United States.

We will be CLOSED for business on:
Monday, December 25, 2023
Monday, January 1, 2024
Monday, February 19, 2024
Working together as the most trusted resource to help our members' financial lives be simply better.