A little change can go a long way!
Debit Card Round Up
What goals can you achieve by rounding up your transactions into your savings account? Make achieving your savings goals a breeze by speaking to a Member Service Representative about enrolling in our Debit Card Round Up.
After you've enrolled, every transaction you complete on a daily basis will be rounded up to the nearest dollar and the total savings will be automatically transferred into the savings account of your choice. Round up transfers only happen on a daily basis and not per transaction in real time. You must have a debit card to participate in the Debit Card Round Up program.
This could be an easy way to grow your Christmas Club savings account for the upcoming year, build an emergency fund, or towards a larger savings goal. While your round-up transfer may not feel like a large amount, it adds up over time!  If you had an average of $3 in change round-ups every day for an entire year, you would have saved up over $1,000 without thinking twice!
To enroll into the Debit Card Round Up, come into a branch to speak with a Member Service Representative or call 1(800) 442-4576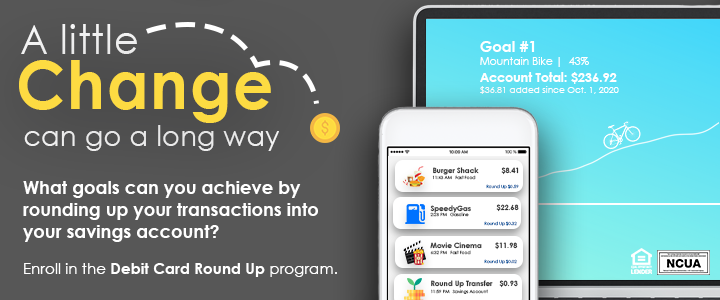 Working together as the most trusted resource to help our members' financial lives be simply better.