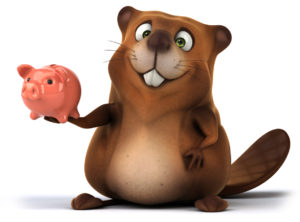 My name is Rocky and I am a head of West Michigan Credit Union's Critter Club. I am so excited that you want to start saving money! I like to tell my friends some fun and easy ways to get started with your Youth Savings.
First, pick a place where you're going to keep the money you earn before you're ready to bring it in. I keep mine in my handy dandy coin pouch!
Here's some ideas for you:
A piggy bank
A jar
An extra sock that's missing its pair
You could even get creative and decorate them with your favorite colors!
Now, let's get to saving… My favorite way to earn money is to have a lemonade stand!
Here's some other ways you can earn money:
Help with chores
Tooth Fairy money
Pick up lucky pennies
Walk your neighbor's dog
Birthday money
It's important now that you're a part of the Critter Club that you remember to always:
Be Kind and Polite
Ask for your parent or guardian's permission before going on adventures
Have fun!
When you come in to deposit your money, you will get entered to win a prize. Your parents can help, but only your deposits will earn you a prize!
Stay tuned for more ideas, games, and ways to earn cool Critter Club Gear!
Join Rocky in the Critter Club. Children ages 5-12 can earn prizes when they deposit money in person at their local branch by filling out a deposit card. To join the Critter Club, visit any branch with the child's Social Security card and date of birth, along with a parent/guardian who would qualify for a WMCU account. $5 minimum deposit required. One deposit must be made each year for the account to remain active.  * Rates Accurate As of November 29, 2023
*APY= Annual Percentage Yield
Note: Fees could reduce earnings on account.
Working together as the most trusted resource to help our members' financial lives be simply better.