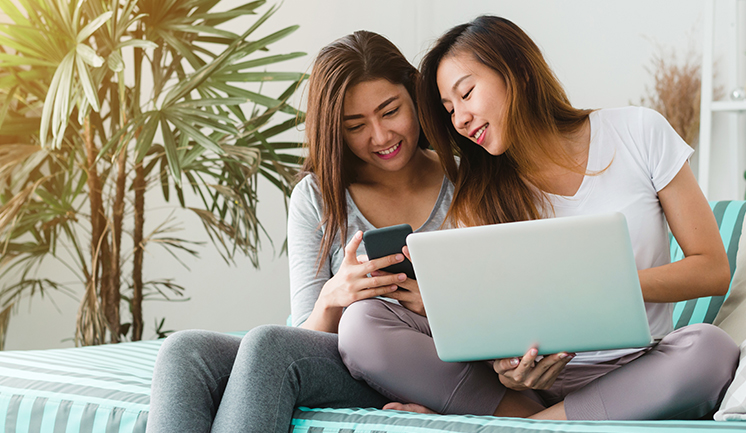 Independent Banking Services
It only seems fitting that in the month we celebrate Independence Day, we discuss how you utilize our banking e-Services to become more independent and gain more control over your banking experience.
Our e-Service options are designed for ease of use, convenience and rapid results. While we love seeing our members in our branch, we recognize the importance of being able to access your account while we're closed, when you're on the go, or when you'd just rather be hanging out on your couch at home.
We've outlined our eServices and how they can fit your lifestyle, schedule, and needs.
Online Banking
Save time by accessing your account on the go with Online Banking! It'sMe247 allows for you to view your account balances and transactions, as well as make transfers and loan payments using the funds available in your account. You can open new sub-share accounts while logged into Online Banking. This tool is a great way to track and verify your transactions, including deposits, withdrawals, transfers, payments, and if certain checks have cleared. You can use Online Banking to calculate loan payments for different amounts, rates, and terms. You can also use Online Banking to change your Personal Identification Number (PIN) and update your address.
Mobile App
Our Mobile App lets you take Online Banking on the go! Using our newly updated Mobile App, you can set up activity alerts and manage your cards using card controls.  You can also access your account, make transfers, view eStatements, and locate our branches. The new message center allows you to review and move important alerts and notices. Our Mobile App gives you the ability to remotely deposit checks from anywhere, providing you with convenience and saving you time! The Mobile App has multiple authentication options to keep your account safe and protected.
Bill Pay
You get convenience at your finger tips with the option to pay bills with a click of a button using Bill Pay. Our Bill Pay system was designed to simplify your busy payment schedule by allowing recurring payments to be set up and processed automatically. Bill Pay allows you to store payment information in one place, so you have a detailed record for your personal use. Bill Pay helps you to monitor the status of your payments too, making it an easy solution to manage your funds electronically
Text Banking
Text Banking is a simple solution for checking balances on the go without an internet connection. Our Text Banking service uses short commands to retrieve the information you are looking for, like balances in your various accounts. Text Banking also has alerts available for deposits/withdrawals and when loan payments are due. The enrollment process has a simple step-by-step guide to make it easy to enroll from your Online Banking.
CU*Talk
CU*Talk is an automated phone system that allows you to perform simple transactions such as transferring funds between accounts, making loan payments, and reviewing account balances. The CU*Talk service can also be used to check current interest rates, verify transactions or cleared checks, and change your PIN.  CU*Talk can be used on any phone and does not require an internet connection. Save time by enrolling for CU*Talk by calling 1(866) 267-4729.
eCommunications
Our eCommunications consist of three elements to help you keep control over your banking services. The first eCommunication is eStatements, an electronic version of your monthly statement that can be accessed in Online Banking and our Mobile App. The second eCommunication we offer is eNotices, giving you notice of important notifications such as missed payments, CD renewals and overdrawn accounts. Lastly, we offer is eAlerts, for when certain criteria is met. You can set alerts to show when your balance goes below a certain amount, you have an upcoming payment, or an automatic deposit/withdrawal. Our eCommunications are designed to keep you connected and in tune with all things that apply to your account.
If you're ready to take control of your money through our independent banking services, contact us and we'll get you started today.
Please note: Your Online Banking account must be set up initially by phone or in person for security purposes.

Working together as the most trusted resource to help our members' financial lives be simply better.